I want to thank Tea Time with Melody Q for honoring us with the Daisy Chain Award.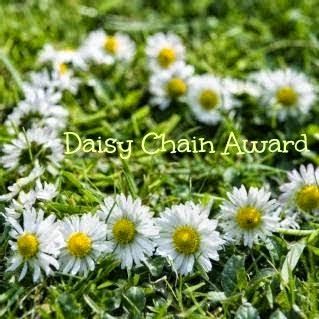 Here is her blog: http://teatimewithmelodyq.blogspot.com
And the questions she asked us to answer:
1. What is your favorite AG outfit of your collection?
This is a tough one! I think our favorite is Samantha's coat. We love coats and hers is beautiful.
2. Which AG outfit do you wish you had purchased when it was available?
Felicity's tea dress
3. Have you read the Harry Potter series? If yes, which is your favorite book/movie?
Yes, and more than once! The first book is my favorite because everything was brand new and exciting.
4. Which is you favorite AG GOTY?
Jess (teehee) but we love all the ones that live here
5. Which is your favorite AG Historical?
Samantha, our first AG doll
6. Which is your favorite AG pet?
Coconut, our first AG pet
7. Are you a doll "do it yourself" crafter? If yes, what is your favorite thing to make?
Yep! Our person loves to sew and knit. She also likes using scrapbooking paper for wallpaper in our rooms.
8. What historical era would you like to see represented by an AG doll?
I was thinking the 1950's and rumor has it there will be a 50's doll next year.
I'm not sure who has been tagged yet, but if you haven't, consider yourself tagged! Feel free to tell us anything you like about your dolls and their favorite clothes, crafts, pets and things to do. They don't have to be AGs.
~ Kiki